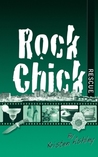 My rating: 5 of 5 stars
Eddie is one hot guy! He's a cop and intends to get her into his bed, but she's a hard sale. There are characters that will make you laugh til you cry, and there are scenes that will make you read until you drop!
Eddie has to rescue Jet and show her he's her man.
Rock Chicks to the rescue!!!!
10 stars all the way!!!!!!!!!!!!!!!!
Click the link below to purchase
Rock Chick Rescue