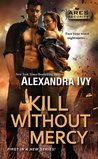 Kill Without Mercy by Alexandra Ivy
My rating: 5 of 5 stars
I can def say this was one of the best books I've read in a while. Alexandra does an outstanding job with this book and I was so fortunate to have been able to read it before it's publication.
The story-line and plot are so good and it has a unique blend of all the things that make a romance/thriller good.
HIGHLY RECOMMENDED!!!!
ARC generously provided by NetGalley for an honest review.