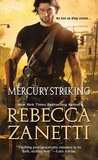 Mercury Striking by Rebecca Zanetti
My rating: 5 of 5 stars
In true Zanetti form, this book was awesome! I read all genres and in this book I found all of the things that make a good read come together for me. Don't you love a good book hangover?
The characters were brought together so well that I felt like I was in the middle of the action and of course the steamy sides that make our books so well worth our time. *sigh*
This book was kindly provided by NetGalley for an honest review.